Try searching our library catalog for items about job hunting and check out some other great websites, on-line databases and other resources listed below.
AtoZdatabases
Ultimate search tool for businesses, people, jobs, mailing lists, background & criminal search and more. This database also includes job searching resources and resume templates.
Business Source Premier
Full text business articles, research and news that is updated daily.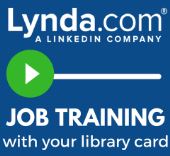 Lynda.com
Now owned by LinkedIn, Lynda.com has more than 6,600 courses, ranging from computer programming to project management including instruction on various computer software, programming languages, and business topics. Learning paths are step-by-step structured courses, supported with quizzes, practice, and learning reminders to encourage you and support you as you make progress towards your goal. Examples of learning paths include how to become a web developer, manager, bookkeeper, project manager, small business owner, digital marketer, or digital illustrator.
Mango Languages
An online language learning system that is fast, easy and the most effective way to learn to speak a foreign language. Includes complete language learning, spoken and written, for over 70 languages.
Transparent Languages
Provides a fun, effective, and engaging experience for learners of all levels looking to build their listening, speaking, reading, and writing skills in a foreign language.  Combining robust courses, supplemental vocabulary, extensive grammar resources, and mobile apps, Transparent Language Online is the most complete language-learning system. With over 100 languages to choose from, including English for speakers of over 26 languages, there is something for every learner. Best of all, with enhanced support for mobile platforms, learners can enjoy the freedom to learn at home, in the library, or on the go.
OhioMeansJobs
For job seekers:
This is your Ohio website that allows you to search all electronic job opportunities which include Ohio employers, national commercial job boards and niche industries. Let all Ohio employers find you today by taking the opportunity to post your resume for FREE.
For Employers:
OhioMeansJobs.com is a window for employers to look for Ohio-based talent, post job opportunities, and integrate employment events into a single, cost free point of contact.