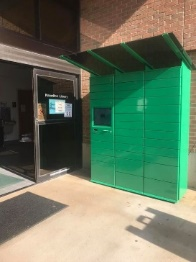 Pick up your Library materials from our convenient 24-hour locker located at the Main Entrance to the Knowlton Library. Place your holds online and we will let you know when your items are available to pick up.
 
Place Your Holds
When you place your holds in our catalog or the SEO Libraries app, select Knowlton Lockers as your pickup location.
We will notify you when your holds are ready to pick up. Ask Library staff how to get notifications by text or email. You can call us at (937) 599-4189 during Library open hours.
 
Pick Up Your Holds
We will hold your items in the locker for 7 days.
When you arrive at the locker, scan your library card or select "Enable Keypad" and enter your card number on the screen. Press "Login."
Enter your PIN. Press "Login."
A locker will open for you to retrieve your items.

Items are checked out to you when the locker opens.

Please remove all items and close the locker.

Do not leave any returns in the locker; use the book return to return items.

A notification will appear on screen if you have more items in another locker. Press "OK" and remove those items.
If you have trouble opening the locker, please contact Library staff during Library open hours.
Return Your Holds
Please use the Library's book drop for all material returns.