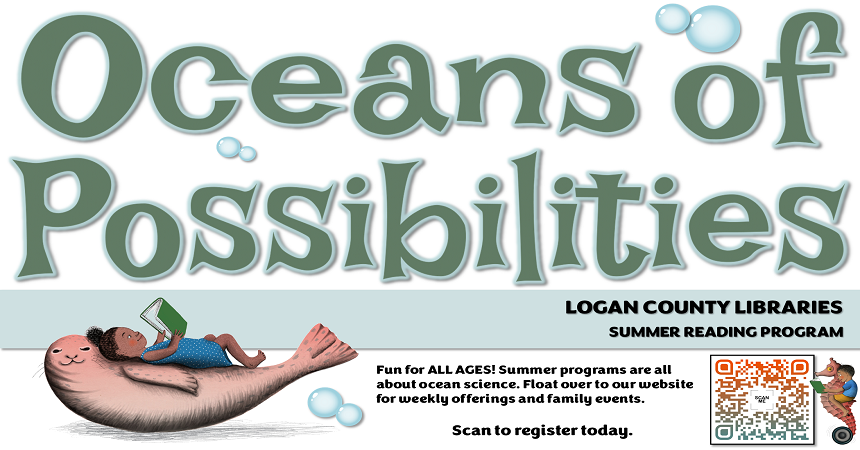 Story Time in the Park
Tuesdays | 11:00am-11:30am | Brown Park
Story Times are 30-minute outdoor programs, designed for ages 0-6, with stories, educational activities, crafts, and more!
REGISTRATION IS REQUIRED
https://forms.gle/LTPk1KTtPYY6isCC7 
Summer Reading Program K-2nd
Wednesdays | 11:00am-12:00pm | Knowlton
A one-hour educational program designed for grades K-2nd all about ocean science!
REGISTRATION IS REQUIRED
https://forms.gle/LTPk1KTtPYY6isCC7 
Summer Reading Program 3rd-5th
Wednesdays | 1:00pm-2:00pm | Knowlton
A one-hour educational program designed for grades 3rd-5th all about ocean science!
REGISTRATION IS REQUIRED
https://forms.gle/LTPk1KTtPYY6isCC7 
Doodle Club
Bimonthly | 11:00am-1:00pm | Knowlton
Two hours of artistic fun and instruction for grades 2nd+ on Fridays, June 10, June 24, July 15, & July 29. Supplies will be provided.
REGISTRATION IS REQUIRED 
https://forms.gle/LTPk1KTtPYY6isCC7  
Drop-In Program | ALL LOCATIONS 
Drop-in anytime for self-led programming at any Logan County Libraries location for unique offerings.
Writers Rule
Thursdays | 1:00pm-3:30pm | Knowlton
A writing workshop for grades 5th-8th. REGISTRATION IS REQUIRED. Email To register: Send the student's name, grade last finished, and parent's phone number to writers.rule.is.cool@gmail.com.
The Greater Cleveland Aquarium LIVE Virtual Tour
Tuesday, June 7 | 4:15pm | Knowlton
A LIVE viewing of a VIRTUAL tour of The Greater Cleveland Aquarium.
Virtual home access is also available via REGISTRATION. 
ALL AGES
REGISTRATION IS REQUIRED
https://forms.gle/9NCW9ooi8Vhw4U4Z9
Beekeeping for Families
Friday, June 10 | 6:00pm | Knowlton
An educational family program about the science of beekeeping. Local honey producers have partnered with us to promote pollinators with the support of Tangled Bank Studies and PBS. ALL AGES
Family Fun Magic Show
Thursday, June 16 | 6:00pm | Knowlton
Gordon the Magician hosts magical family fun! ALL AGES
Didgeridoo Down Under
Saturday, June 25 | 10:00am | Knowlton
An Australian Aboriginal celebration of music. ALL AGES
Cookie Decorating for Kids (CURRENTLY FULL)
Saturday, July 30 | 1:30pm | Knowlton
A basic cookie decorating class designed for children 5+ with some dexterity skills.
Ages 5+
REGISTRATION IS REQUIRED
https://forms.gle/T6hxABaS8qg9S52M6